Whether you are a teacher, instructor, tutor or workplace trainer and L&D professional, we have a range of CPD accredited courses and UK regulated qualifications to support your professional development.
Enrol now to a nationally recognised training and adult teaching qualification
Get immediate access and complete your training and teaching qualification by distance learning. Available for UK based customers only, aged 19+ years. Access unlimited tutor support and optional live online lessons by Microsoft Teams. Get in touch with us to discuss bulk discounts or classroom delivery options.
Level 3 Award in Education and Training (RQF)
A nationally recognised teaching qualification for those seeking a career in adult education. Suitable for teaching in colleges, independent training providers or a train the trainer qualification for workplace trainers.
CPD Accredited - Online courses for Training and L&D Professionals
Our accredited train the trainer courses are available as self-study, worldwide and you can enrol and access immediately. Contact us to discuss alternative delivery methods for groups, or buying in bulk for your instructors or L&D team.
Certificate in Training Course Design
Identify training needs at both individual learner and the organisational level. Develop robust learning objectives, course outlines and session plans. Design or source learning resources that meet your training needs.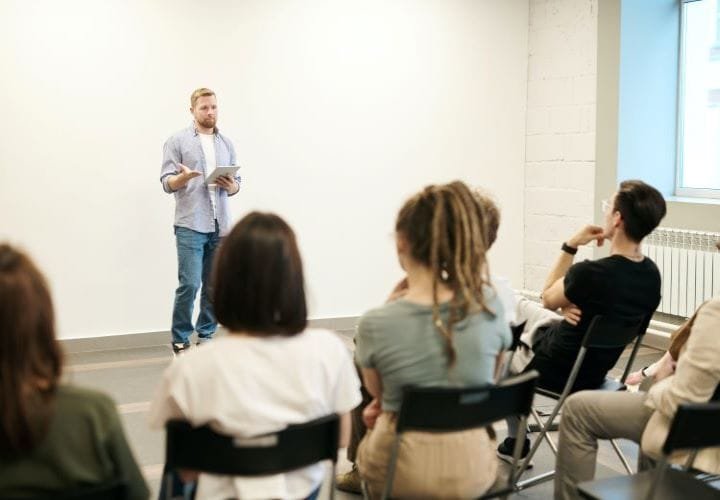 Certificate in Training Delivery
Deliver engaging, professional and inclusive training sessions and use a range of teaching approaches to appeal to all learners. Assess learning with a variety of assessment types and methods.
Certificate in Training Evaluation
Evaluate your learning programmes using Return on Investment and Return on Expectations to demonstrate effectiveness and create KPI's to monitor and measure your training department.
Certificate in Corporate Training
Our best value training for trainers, covering all areas of the training cycle from design to assessment, ideal for aspiring and existing trainers, L&D practitioners and learning managers.
Enrol in any of the above three courses individually, or get access to all content in the Certificate in Corporate Training course.
The Certificate in Corporate Training offers the best value of our CPD accredited teaching courses, with content that covers all areas of the training and learning cycle. 
Train the Trainer - 5 day classroom course
For companies or groups, train the trainer courses are available for classroom face to face delivery, remote lessons via Microsoft Teams, or a combination of the two. We provide training of trainers worldwide. Course content can be tailored to your group needs and you can choose what delivery method works for you.
Have an enquiry? Get in touch today.