Get Started
This course is currently closed
Aviation Basic Safety and SMS
Study online | Approx. 90mins | IATA AHM1110 11.2 GEN02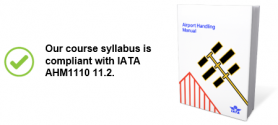 Summary
Learning Outcomes
Topics
Assessments
Who should do this course?
Validity
Certificate
Summary
This course covers general Health and Safety responsibilities for the employee and employer. It also includes noise awareness and fire safety training. This is suitable as an introduction for any employee working in an commercial or private airport. We recommend that the employer supplements this basic training with additional company specific procedures. 
This course meets the requirements of IATA AHM1110 GEN02 (subject to company specific procedures being communicated locally).
Learning Outcomes
By the end of this course participants will be able to:
Define a company's safety policy and program.
List employer/employee responsibilities.
State applicable regulations (international, state and local).
Apply safe working and operating practices.
Follow the reporting policy and process.
Use the open reporting culture and any confidential reporting system.
List the types of personnel injuries and incidents as well as define their prevention.
Topics
Introduction to safety and safety policy/program
Safety philosophy
Employer responsibilities
Employees responsibilities
Safe systems of work and safe operating practices (SOPs)
Uniforms and personal protective equipment (PPE)
Airport and workplace environment
Safety awareness–noise, use of chemicals, use and maintenance of tools and equipment
Equipment, tools (job relevant)
First aid arrangements
Accidents in the workplace and the cost
Accident/injury prevention
Aircraft damage and cost of accidents and incidents
Accident and incident report
Confidential reporting
Health and safety law, regulations (international, state and airport)
Occupational Health and Safety Program (OHS)

Fire safety awareness



Crisis management awareness
Assessments
This course contains a multiple choice quiz which is completed online and graded immediately with a passing score of 75%.
Who should do this course?
This course is designed for all employees who work in airport operations. For example:
Passenger Services Agent
Ramp Agent / Ground Handling Agents
Aircraft Dispatcher

Re-fuelling agent

Cleaning staff
Catering staff
Supervisors and Managers
Validity
Recurrent training should be completed within 36 months. 
In the event of long term absence, employees may be required to complete this course at more regular intervals.
Certificate
This course includes an instantly downloadable PDF certificate upon successful completion as well as a digital badge.
If you prefer a printed certificate, a hard-copy printed on quality A4 170gsm paper is available here.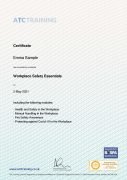 PDF Certificate included

Valid for 36 months

Self-study online course

Include your own procedures

Bulk discounts available
Monitor employee progress easily.
Our system allows you to monitor the progress of your employees, download certificates, and issue your own logins. Alternatively, we can do it all for you.
Tailor the course to your own procedures.
Purchase our standard courses or tailor content to match the specific role and responsibilities within your organisation. Get in touch to discuss your requirements.
Place an order or enquiry