Aviation Train the Trainer
CPD Accredited | IATA AHM1110 (GEN10) | IS-BAH IG 8.1.6 | Approx. 40hrs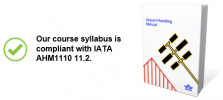 Dates available for online Micro-Teach sessions!
Ideal if you are completing the course by distance learning, you can join other ATC Training students to deliver your 15-minute session online as an alternative to completing in person or sending us a recording. Click here to learn more.
Summary
Learning Outcomes
Resources
Topics
Assessments
Target Audience
Pre-requisites
Certificate
Summary
Designed for trainers in the aviation industry, learn how to deliver engaging training sessions online, in the classroom and in the airside environment. Learn how to maximise learning within a session using a range of teaching strategies to deliver a motivating presentation in a supportive learning environment. Discover a range of assessment methods to verify understanding as well as identifying your legal responsibilities as a trainer or tutor. 
Aligned with IATA AHM1110 11.2 (GEN10) for commercial aviation.
Useful to comply with IS-BAH IG 8.1.6 for business aviation.
Available worldwide.
Classroom or live online delivery available upon request.
Option to include the Level 3 Award in Education and Training, a UK teaching qualification.
Learning Outcomes
By the end of the course, learners will be able to:
Apply principles of adult learning and demonstrate appropriate instructional techniques.

Prepare for, conduct and wrap up an effective training event.
Implement methods of objection handling and active listening to promote learning.
Evaluate the effectiveness of a training event and techniques.
Define the importance of adult teaching and learning principles.
Articulate the main dimensions of individual learning styles.
Resources
In addition to our extensive online resources, learners will receive our resource pack by post, which includes:
Learner Handbook
Printed Training Manual/Workbook
Printed copies of assignments and session plan templates
Pen and highlighter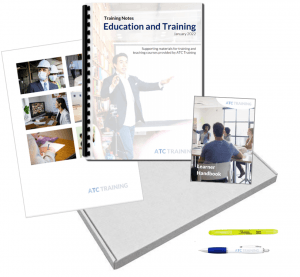 Topics
Learning Styles and Learning Models
The Teaching / Training Cycle
Roles, Responsibilities and Legislation
Aviation Legislation and Regulations
Airside Safety Awareness
Safeguarding and Prevent
Equality and Diversity in Learning
Training Needs Analysis (TNA)
Individual and Group Learning Needs (ILN/GLN)
Learning Aims and Objectives
Maximising Learning
Session Planning
PowerPoint Design Tips
Ground Rules, Icebreakers, and energisers
The Learning Environment
On-the-job training in the aviation environment
Presentation Skills
Delivering remote training
Micro-teach session (practical)
Principles of Assessment
Constructive Feedback and CPD
Record Keeping
Assessments
This course contains the following methods of assessment:
Written tasks – broken into short text answers, submitted online and reviewed by a tutor.
Multiple choice questions – submitted online and graded immediately.
Document creation – Creation of a lesson plan and training materials.
Observed micro-teach session – can be completed remotely.
All submitted work will be reviewed within 7 days by a distance learning tutor and feedback provided. You may continue through the course while waiting feedback.
Target Audience
Ideal for those working or moving into a training role that requires involvement in all aspects of the training including planning, design, delivery, assessment and evaluation. The course is suitable for those with no prior knowledge, as well as experienced trainers or training managers looking to fill knowledge gaps and gain recognition.

Aligned with the IATA Ground Operations Training Syllabus (AHM1110 11.2 GEN10) for those working in the airport environment.
Pre-requisites
This course is suitable for those with no prior knowledge. Learners must have access to the internet to access the content
Certificate
This course includes an accredited PDF certificate upon successful completion.
If you prefer a printed certificate, you can purchase a hard-copy printed on quality A4 170gsm paper. Click here for details.
We offer the following options:
Distance Learning
Self-study with tutor support
No hidden charges or extra fees

Support from a dedicated tutor

Enrol now with immediate access to online course materials

Free hard-copy resource pack sent by post

Study at your own pace, from 1 week or take up to 12 months
Live Remote Sessions
Attend live online sessions with a tutor
No hidden charges or extra fees

Distance learning plus online lessons from an experienced tutor

Online and hard-copy learning resources

Attend an intensive course or remote sessions over 4-6 weeks
Classroom
Attend a course in person at one of our venues
Learn in a traditional classroom setting

Delivered over 3 or 4 days

Learn from your peers with a maximum course size of 16 candidates

Online and hard-copy learning resources

Bulk discounts and in-house courses on your own premises available
In-House
Classroom, Online or a combination
Available nationwide, or remote

Choose your own delivery model

Suitable for between 6-12 delegates

Can be tailored to your organisation
CONTACT US
Recommended course size 6-12 delegates.
Are you looking to arrange the course for your employees?
We can deliver the course to suit your needs to minimise time away from the business.  
This could be classroom delivery, online via Microsoft Teams, or a combination of both. It can be delivered in as little as 4 days or spread the delivery over several weeks or months.  Our flexible options include evening and weekend delivery if required.
Frequently Asked Questions (FAQ's)
Have an enquiry or want a quote? 
Why study the Award in Education and Training with ATC Training:
Access course materials 24/7 on any device.
Five star reviews from our customers
Experts in Aviation Training
Unlimited support from a dedicated tutor.
Up to 12 months to complete
No hidden certificate costs (PDF and Paper)
Fast Certificate Turnaround
Additional course materials are visible here once enrolled.