Aviation Basics – Introduction to Airport Operations
Study online | Approx. 90mins | IATA AHM1110 11.2 GEN01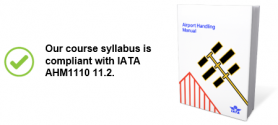 Summary
Learning Outcomes
Topics
Assessments
Who should do this course?
Pre-requisites
Certificate
Summary
It can be daunting starting to work in the aviation industry due to the amount of abbreviations and technical jargon being used. This course provides a basic understanding of key terminology and different roles within the airport. It is ideal to provide a basic level of knowledge to support a job application, for those new to the industry, or for experienced employees looking to fill in knowledge gaps.
Aligned to IATA AHM 1110, 11.2, GEN01.
Complete within 6 months of issue.
Bulk discounts available for multiple licenses.
Learning Outcomes
Topics
Assessments
Who should do this course?
Pre-requisites
Certificate